Posts Tagged 'trends in manicure'
 Abstract nail art in PINK shades
Cool glamorous nail art is always fun to experiment with especially if you have a fall for the chic manicure designs. These colorful Fall nail art ideas.
Another example of how to create an Abstract nail art with dark shades using black background
Abstract nail art in black and blue colors

Would further enrich your collection of voguish nail trends that would grant you with a perfectly polished and A-lit manicure all throughout the black and blue and rainy months of autumn and winter.
Abstract nail art in PINK AND BLUE shades

Say no monotony by taking a peek at these illustrative and Abstract nail art designs.Take a glimpse at the nail art ideas below to sport a brand new manicure every time you step onto the scene in pink and blue.
Ideas of Abstract nail art with prints of white stars
Abstract nail art in blue color and decoration of white stars
Our luxury and classy or edgy and vibrating manicure is a real statement accessory. All beauticians agree that sporting a spotless and well-defined blue nails are indeed the clear sing of you.
Ribbons nails art in PINK SHADE
There are no limitations as long as you add a cheerful touch to your pink nails. Forget about grown-up ribbon shades and opt for something more great.
Try some of our ideas of amazing ribbons nails art design
Ribbons nails art decorated with shiny stones
This is something youthful such as brights, glitter, sweet pink, Liberty flowers, playful dots, hearts, or black ribbons.This nails as you can see has rhinestones, too.
Black and white shades for ribbons nails art design
The palette is vast and rich, allowing unique combinations. Bows express maximum loveliness. Besides, they are a great way to add femininity to your look with black and white.
Modern french manicure inspired of ribbons nails art design
FRENCH MANICURE designed with ribbons
We have seen bows coming back in fashion for spring/summer 2011 as designers used them on clothes and numerous accessories. The good news is that ribbons and dots can also be found on your nails.
Candy nails art is one of the latest trends in Manicure world
Candy nails art design with many fruits on your manicure
Explore the flashy visual effect rainbow nails can give your appearance and make sure you adopt the right fruits attitude to popularize them like a real pro.
Stylish Candy nails art design in style of birthday cake
Candy nails art design decorated as birthday cake
Put your fab nail painting skills to a test and make sure you arm yourself up with high quality tools and products.Paint this cakes and make them in many colors to look more delicious.The latest fashion trends in nails art are Candy nails art design.
Cute Candy nails art design in style of watermelon
Candy nails art in style of watermelon
These are indeed some of the main factors that can secure the best conditions for a flawless and successful manicure session.Like this one that's decorated with watermelon.
HELLO KITTY nails art design
Nothing screams versatility more than your colorful nail art. Showcase your open-minded style-awareness and try your hand at the purple manicure designs of the moment.
Latest nails designs includes red hearts and white colors
Still, these examples will help you start your manicurist career from the first and basic steps.Just you have to follow your red heart and you'll be the best.
Some ideas of latest nails designs with polka dots
Latest nails designs with MANY DOTS
Drawing stripes, polka dots and other abstract designs is the first move towards mastering the tricks of nail art.Try this manicure in white color with black dots.
Ideas of latest nails designs with white roses
latest nails designs with white roses on your nails
If you're a fan of no fuss nail designs be sure to have these models at hand.Make this simple french manicure lacquered in dark tone and decorate it with white roses.
Pink flowers is one of the latest trends in the nail art decoration
PINK FLOWERS on the latest nails designs
This shade is simple,too.You need only bright blue and silver for the decorations,and you have to find pink flowers.Then you paint the nails and the finish is amazing.
Colored nails art decoration with ANIMAL PRINT
You'll need to be up-to-the-minute with the hottest manicure trends to stay chic all throughout the blooming season.Use this animal printed manicure in white shade  and choose a stylish Colored nails decoration for background.
AMAZING COLORS for Colored nails art design
The following happy spring nail art ideas will provide you with dapper alternatives on how to decorate your Colored nails art with scene-stealing prints and patterns.
Colored nails art decorated as Rainbow is the best idea for the weekend
Colored nails art decoration as rainbow
A perfectly polished manicure is more than just a style statement. Your nail art can reveal your beauty-awareness along with your creativity of rainbow nails.
Amazing Colored nails art decoration in so many shades
Colored nails art with PERFECT DESIGN
Those who wish to take their nail painting skills to the next level will have the chance to do it perfect by experimenting design with the following happy spring nail art ideas.
Brown nails design with superb golden shades
Therefore if you are keen to strengthen your gold beauty-sylph reputation make sure you find out more in the various brown nail trends of the fall season.
Amazing brown nails with flowers
Amazing brown nails decoration
Adapt to the cool colorful fall nail art ideas and promote the joy of melting various colors, textures and additional details into a single award-winning look.
Sharp brown nails design
Explore the complex patterns or limit yourself to the DIY and more simple golden and shiny nail art which can offer the same pleasure as the more skills-challenging sharp ones with flowers.
Wonderful brown nails design with white flowers
Brown nails in brown shade
Get into the groove of creating your own brown nails design and draw them embracing the latest brown nail color trends for fall/winter. Choose from the floral patterns as well as glittery and shimmery.
Butterfly nail art with perfect decoration
Want a quick and effortless beautiful nail fix? These lovely fall nail art ideas with butterflies can provide you with the perfect answer to all your style dilemmas.Look at this butterfly and the white polish.
Amazing 3D design of Butterfly nail art ideas
GREAT 3D Butterfly nail art
Learn more about the visual effect of versatile colorful manicure designs inspired by the hottest print and color trends.It's something like this 3D manicure with animal details.
Amazing nail art with butterfly in blue shades
As well as the dark blue tones and more clubbing chic accessories all aim to cheer up our plain hands.Just as this manicure with butterflies that is amazing and shiny.
Stunning Butterfly nail art with butterfly prints
SUPERB nail art design with butterflies
Update your look with one of these lovely butterfly nail art ideas. Colorful manicures scream glamor! Arm yourself up with the hottest nail polish butterfly collections and work with shades.
Colored nails design in pinky shade
The good news is that pink shade can also be found on your nails. Therefore, whether you have long, medium, or short nails, it's time to try this simple, lovely, yet very effective design.
Amazing Colored nails design in blue and white stripes decorated with hearts
Amazing Colored nails design in blue and white shades
Put your white and blue imagination to the test and in just a few steps you'll get a lovely Colored nails design in blue and white. If you have no skills when it comes to nail art, you can apply an acrylic hearts bow tie.
Stylish Colored nails design in yellow shade decorated with white dots
Colored nails design in yellow
We all love spring. The perfect season when we celebrate life, warm weather, friendly sun, blue sky, candy-colored flowers, and love.Just like this yellow colored nails design with white dots.
Colored Nails design with roses
We start wearing ladylike dresses and skirts, colorful t-shirts and floral printed tops.The same as this pink and blue manicure that is decorated with roses and rhinestones.
Colored nails art for amazing look
Colored manicures , flip through this fab gallery of super-simple spring nail art ideas.Like this Coloredl nails lacquered in pink,blue and orange shades.
Amazing Colored nails art design in different shades
Amazing design of Colored nails art
Use your creativity to copycat the versatile nail styles and arm yourself up with these hot new season accessories.Look carefully in this amazing Colored nails design with rhinestones.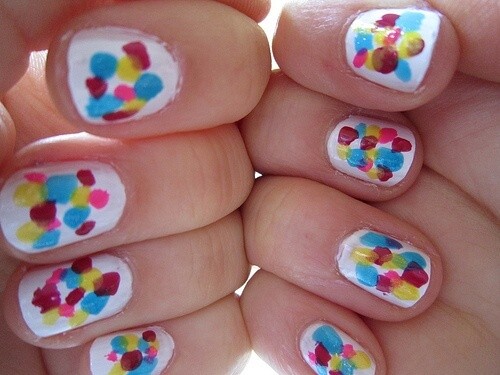 Colored nails art
Choose your favorite patterns you'll apply on your nails in order to complement your casual or party look. This is exactly this type of nails that are colorful and stylish.
Amazing Colored nails art in white and red shades

Great Colored nails art design
Don't waist your precious time by experimenting with too complex nail art ideas. Instead, you can go for the safe alternatives that guarantee the successful outcome of your great manicure session – Just try some Colored nails art.
Summer Nail Art in black  and white shades
While viewing any ideas for color and fresh manicure, which is easily and quickly stumbled upon a very complex painting techniques with sliced ?We will, however, you can offer something much more simple and much easier to implement, so here's some of the things we liked and would "wear" with pleasure.
Stunning Summer Nail Art in pink shades
Summer Nail Art in pink with black hearts
Inspired our brave combination of dress in bright, royal blue, Rihanna and nails in dark orange. Summer Nail Art in pink with black hearts like the playful accent and the way the color stands out on darker skin. Now it's time to sea and a nice tan always go in bright colors – pink, tomato red, modern coral. Prior to apply a bright color nail polish on your nails, do not forget to put on.
Trendy Summer Nail Art in blue shades
Summer Nail Art in bright blue shades
Blue and white – these are both colors lacquer, which can devise variations of marine motifs on nails. One of the easiest ways is to nail polish in dark blue and white tips. Or vice versa – the foundation can be white, and stripes at the top of nails blue. Follow the rule of the French manicure, but for more brilliance just finish nails with a layer of .
Summer Nail Art OF POINTS IN BLACK AND WHITE
If you want something goofy and a little streaky, use a combination of peach pink nail base. Then with a toothpick or pin end of the regular draw small dots of paint color lacquer. Just put on film one, two drops of green paint, dip the tip of the toothpick in the paint and make a dot on the nail. Allow to dry and apply a layer of clearcoat on top. At first glance, the colors are quite different, but together look very interesting!