Posts Tagged 'Luxury manicure'
Ribbons nails art in PINK SHADE
There are no limitations as long as you add a cheerful touch to your pink nails. Forget about grown-up ribbon shades and opt for something more great.
Try some of our ideas of amazing ribbons nails art design
Ribbons nails art decorated with shiny stones
This is something youthful such as brights, glitter, sweet pink, Liberty flowers, playful dots, hearts, or black ribbons.This nails as you can see has rhinestones, too.
Black and white shades for ribbons nails art design
The palette is vast and rich, allowing unique combinations. Bows express maximum loveliness. Besides, they are a great way to add femininity to your look with black and white.
Modern french manicure inspired of ribbons nails art design
FRENCH MANICURE designed with ribbons
We have seen bows coming back in fashion for spring/summer 2011 as designers used them on clothes and numerous accessories. The good news is that ribbons and dots can also be found on your nails.
Latest nails designs includes red hearts and white colors
Still, these examples will help you start your manicurist career from the first and basic steps.Just you have to follow your red heart and you'll be the best.
Some ideas of latest nails designs with polka dots
Latest nails designs with MANY DOTS
Drawing stripes, polka dots and other abstract designs is the first move towards mastering the tricks of nail art.Try this manicure in white color with black dots.
Ideas of latest nails designs with white roses
latest nails designs with white roses on your nails
If you're a fan of no fuss nail designs be sure to have these models at hand.Make this simple french manicure lacquered in dark tone and decorate it with white roses.
Pink flowers is one of the latest trends in the nail art decoration
PINK FLOWERS on the latest nails designs
This shade is simple,too.You need only bright blue and silver for the decorations,and you have to find pink flowers.Then you paint the nails and the finish is amazing.
Butterfly nail art with perfect decoration
Want a quick and effortless beautiful nail fix? These lovely fall nail art ideas with butterflies can provide you with the perfect answer to all your style dilemmas.Look at this butterfly and the white polish.
Amazing 3D design of Butterfly nail art ideas
GREAT 3D Butterfly nail art
Learn more about the visual effect of versatile colorful manicure designs inspired by the hottest print and color trends.It's something like this 3D manicure with animal details.
Amazing nail art with butterfly in blue shades
As well as the dark blue tones and more clubbing chic accessories all aim to cheer up our plain hands.Just as this manicure with butterflies that is amazing and shiny.
Stunning Butterfly nail art with butterfly prints
SUPERB nail art design with butterflies
Update your look with one of these lovely butterfly nail art ideas. Colorful manicures scream glamor! Arm yourself up with the hottest nail polish butterfly collections and work with shades.
Stripes nail art in black and yellow
Colorful nails never go out of style, therefore try your hand at the hot spring nail art ideas presented below. Use the key black and yellow color trends to pull off an A-list and on trend manicure.
Trendy and fashion stripes nail art
Stripes nail art in marine design
Decorate your stripes nail art in marine style with lovely prints and patterns to make sure you stand out from the crowd with your unique look.This can make with blue,red and white pattern.
Amazing stripes nail art design in pink and black shades
Stripes nail art in PINK AND BLACK
Accentuate your perfectly polished nails with the hot spring nail art ideas presented below. Colorful manicures were never as versatile and on trend as this season like pink and black french manicure.
Stripes nail art FRENCH MANICURE
Using an infinite color palette will allow you to strip off all your restraints and experiment with cute and glamorous trends.One you can see here with this silver shine and white dots.
Pink nails design is amazing nail manicure idea
I used three coats to get the intensity of pink color I wanted and despite the three coats, the wonderful polish dried quickly, so I didn't have to wait around the decorations.
Amazing pink nails design decorated with flowers
Pink nails design decorations with flowers
It's a really lovely color, but the polish is slightly let down by the texture.It is a little bit too thick, which means that it is difficult to paint it on without getting streaks.Anyway if you success to create a pink nails design with decorations like this you are a manicure master.
Pink nails design with shiny look
It isn't the worst texture I've come across though so if you love the color, I'd say it is still worth the ?6.75 that it costs.It's a great manicure with black decorations.
Special pink nails design decorated as French Manicure
French manicure with pink nails design
Alternative is Pink nail polish, which has a really similar pinky color, but is slightly more pricey.This is type of french manicure that is decorated with flower.
Extravagant Nails art in gold with  3D effect
Much of women prefer in their daily lives plain and simple manicure. Of course there are times when we can afford some degree of eccentricity, and why not provocation. Neil e-art modern art, which gives a great opportunity to show their individuality and focus on something specific in itself. Luxury and Extravagant Nails art in gold with 3d effect.
Stunning Extravagant Nails art with many rhinestones
Extravagant Nails art with rhinestones and chains
For connoisseurs of extravagant style of nails offer several original and eccentric ideas for decorating your nails. Create a unique masterpiece on your nails with the help of various decorations such as stones, feathers, lace and chains. Spectacular manicure with decoration.
Extravagant Nails art in violet designed with many rhinestones
Fashion trends for Extravagant Nails art are very diverse. The designers showed a variety of colors such as nail polish – the classic red nail polish and colorless natural to bold and unusual colors such as blue, green, etc.Wonderful and Extravagant Nails art in violet like lace.
Extravagant Nails art decorated with gold
Extravagant Nails art with golden elements in 3D
One option for effect manicure is that of brocade. Boca pour over wet paint. Then, place and clear coat.  Beautiful 3D manicure. Another option that is easy and everyone can do at home is to use lacquer with glitter. Another way to use glitter is to be applied on white brocade strips French manicure. The use of stones will also give extra shine to your Extravagant Nails art.
Black nail polish for simple nail art
A Brief History of the Black Nail Polish
In ancient China, the color of the nail was used for social standings, just plain have used shades of pink, while the royal family – used the colors red and black. Over the centuries, popular nail colors vary but black is relatively unheard of. Chanel`s black polish. Then in the seventies, rockers like David Bowie and Freddie Mercury reborn eyes. The hands of these men rock, black nail polish has a whole new meaning. Fast forward to the nineties then black nail polish is a symbol of the Gothic movement. Marilyn Manson again popularized jet black lacquer.  Black nails today. Simple manicure in black. While black nails are still used by the Goths and punk rockers, the color is more common in recent years.
Gothic nail art decorated with black nail polish
BLACK NAIL POLISH in Gothic style
Stars like Lindsay Lohan, Jessica Alba and Nicole Richie have been photographed on the red carpet with black nail polish. This creates the appearance that Art nails a bad girl, but still nice and modern. Designers like Chanel and OPI, now offer their own versions of products, black nails. Black nail polish.Care for Black Nail Polish Regardless of the reasons to wear black, you'll want to pay the necessary attention to your nails. Nothing looks like black nails. Since nail art is heavy, black trend highlights problem areas. Remember to keep your nails clean and chickens cracks as soon as possible.
GOLD MANICURE DESIGN WITH AMAZING DESIGN
Remember how we told you ahead of time for makeup, which is glued directly on the eyelid? It seems creativity (or according to others – stupidity) of cosmetic companies do not stop here. With combination of bewilderment, admiration, and usually human curiosity to inform you that the market has already appeared and the gold manicure design is the greatest choice (no artificial nails or nail, but something quite different). With puzzlement – because easier seems to be varnished, rather than puts some things in metal nails (just below clarify what and how).
Amazing gold manicure design decorated with black color
Black and gold manicure design
With admiration – because the color of that prepared manicure is perfect metallic body which for quite some time searching among varnishes, but we can not detect.  This is a simple human curiosity will now explain it. These "gold-nails" are made from thin sheets of gold film decorated by sticking and the final product is a great gold manicure design.
Glossy gold manicure design
METAL GOLD MANICURE DESIGN
Interesting indeed. The entire process takes 40-50 minutes and must be accompanied by a professional manicurist who is familiar with its technology.  These patches are made by the company Minx and last 2 weeks as manicure, pedicure, but as even more. Or so say the producers. Except in metallic gold lacquer, they have in any other colors and variations, even pictures.Anyway the best available choice is the stylish gold manicure design.
STYLISH GOLD MANICURE DECORATED WITH BROCADE
Many celebrities like Lady Gaga and Beyonce already enjoy it – gold manicure design by sticking, but you do not need to host and to wash dishes. Under ordinary girls who have tried, durability than 2 weeks is rather fantastic, but in fantastic sense. We still have no opinion on the matter, but definitely intrigued us. Maybe this will be our first autumn experiment.
Japanese nail art – Long and Sharp nails
Your dream is to have perfect nails without having to undergo expensive and difficult to maintain nail? So just for you is the latest fashion in beautification of the nails - Japanese nail art already gained popularity worldwide. Japanese nail art is a brand new system of care for natural nails. Its main difference with other types of manicure is the predominance of natural materials. Due to the preliminary diagnosis is chosen individual approach to nails.
Amazing Japanese nail art decorated with pink ribbons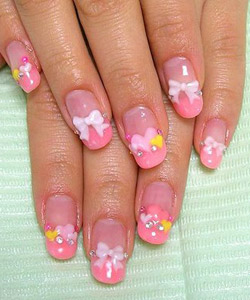 SWEET JAPANESE NAIL ART IN PINK
Special mixtures consisting of sera, mineral powder, mineral paste, smooth skin of your hands and flatten the surface of the nails, making them closer to the ideal. Using a table is chosen individual complex method for nail care.The first stage consists of a tub with warm water and special ingredients and a great exfoliator for hands and nails. Following them onto the nail is applied a mixture of protein and rice milk that purify and beautiful Japanese nail art.
Stylish Japanese nail art for long nails
LONG JAPANESE NAIL ART WITH BROWN DECORATION
The second stage is applied on nails serum on cucumber extract, which is known for its hydrating power. The procedure nails become stronger and acquire a sleek and clean look. Should strengthen the nail plate, which is achieved by superimposing it is applied to a mixture of serum with powdered pearls, enriched with keratin, calcium and trace elements.This helps the nails grow faster and become more rigid.The new hit in theaters around the world – Japanese nail art
LUXURY JAPANESE NAIL ART IN DARK COLOR WITH FLOWERS
For treatment of nails and cuticles using only natural elements – rods orange, buffing block of calfskin.Cuticles become soft under the influence of special funds, based on extracts from seaweed, and then spread with cream extract  vanilla and lotus seeds. Nails are applied mineral paste polish with blocks, following a procedure with the application of polishing powder. Japanese nail art is smooth and shiny without on them is polished. After this treatment they are not broken and elbow stays on them longer.
SIMPLE MANICURE IN BLACK WITH PEBBLES
Today we're not a wave art manicure and developments around the area of nail and nail decoration. We will show you great and simple manicure ideas to nail that all our staff approved without even a thought.
Simple manicure in lilac color
SIMPLE MANICURE IN LILAC NAIL POLISH
Beautiful simple manicure definitely depend on natural resources such as size and length of plate, strength, brilliance, etc.But when nails are maintained regularly and not too much artificial manipulation of extending and strengthening, then you can count on beautiful hands all manicure is naturally.
Simple manicure design in black and blue
BLACK SIMPLE MANICURE DECORATED IN BLUE
Victoria Beckham and Jennifer Lopez are among the ladies in public, who had recently "preach" abstinence to nail in all its harmful and harmless forms.  And here is what we think colors a short and well-groomed nails.
SIMPLE MANICURE IN BODILY COLOR
And again the most stylish nail polishes are bright shades that are in fashion every year can be decorated with small stones or other ornaments. But do not overdo it so as not to get too kitschy.